Stadiums are special places to everyone. They hold the memories of our favourite days and nights out. Whether that's seeing your favourite football team go 6-0 up in a fierce derby, or seeing your favourite musicians live for the first time. The memories we cherish come from the experience we have. This includes everything from finding your way to the correct stadium turnstyle to making it all the way to the main event. To enhance the experience within your stadiums, you need stadium digital signage.
However, stadiums are always playing tug of war with the sofa for viewers. With fans asking themsleves – why should I bother going to the stadium when I can watch the event live in the comfort of my own home? But what's causing these fans to stay at home instead of getting the real life experience? The real answer lies in the increased availibility of sports and entertainment packages and home cinema systems which has encouraged fans to remain put on the sofa. Saving money is also a big reason for this, so stadiums need to increase the value they offer fans, so they get a better bang for their buck. To increase fan enagement stadiums need to increase the fan experience. One way to do this by installing stadium digital signage.
Although we have seen how stadium digital signage helps to draw in fans to visit stadiums it is widely under-utilised. Here are some of our top ways your stadium can use digital signage for stadiums to increase fan engagement and increase ticket sales.
1. Modernise Your Menu Boards
An old, worn, greasy menu board can make the great food you make look unappetising. The last thing you want to do is put off your hungry fans with bad quality images and poor marketing of your food.
We are currently seeing a surge of digital menu boards becoming the industry norm for restaurants and stadiums alike. With this increase in technology you are able to make your food stand out with video and dynamic features. Furthermore, you can live stream your event on your stadium digital signage screen so that your fans don't miss a moment. There is no better time than now to invest in stadium digital signage to help boost your concession sales.
2. Utilise Live Data Feeds
During their time at your stadium, fans are only likely to purchase food and drink at certain times. For example, when they are leaving, it is unlikely they will buy food or drink. However, with stadium digital signage you can retain these customers and keep their business. To do so stadiums can make use of their stadium digital signage to display triggered, well targeted, tailored content. For example, at the end of a concert or football match the stadium digital signage could display traffic information. If fans see the traffic is bad they may stay behind and have a bite to eat, increasing your concession sales. Alternatively, the screens can display small gestures thanking fans for their support, to help encourage them to visit again.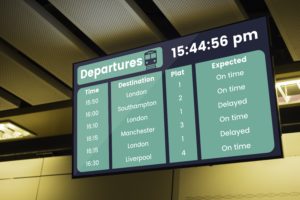 3. Stadium Wayfinding
A nightmare that keeps fans on their sofa is the thought of not finding their way to the event or the main stage. The sheer notion of a fan not knowing where to go and traipsing about for ages can really put them off visiting your stadium. This is where digital stadium wayfinding comes in. Digital wayfinding is a recent development in technology that allows for attractive, efficient, live wayfinding screens to be installed at your stadium.
Effectively digital wayfinding includes; interactive maps, digital screen signs and interactive kiosks that help point your fans in the right direction. If a fan is lost they can simply approach one of your interactive kiosks and select where they need to go. The kiosk can then show the fan the location on an interactive map of where they need to go. Or alternatively, the kiosk could show a video of the route the customer needs to take in order to reach their desired location.
Here at TrouDigital we boast a wealth of experience regarding digital wayfinding and would be happy to take on your project. If you have a stadium digital signage wayfinding project in mind for your stadium get in contact with us today here.
4. Optimise Your Social Media
The continued fast paced growth of social media has reinforced the importance of social media within your marketing strategy. Whether your stadium is operating in a B2B or B2C context, the additional exposure you can attain is second to none. It's common knowledge that stadiums, teams, musicians etc. all have strong social media presences. So why not extend this social media presence from the small screen (mobile) to your digital signage? Artists such as Selena Gomez have 163 million followers, or football teams like Barcelona have over 80 million followers, are perfect to display on your stadium digital signage displays. The content these accounts generate can add an extra level of buzz to the events your stadium is hosting. For example, if you have a boxing event coming up, the stadium could display live tweets from the boxers during their fight promotion period, to get the crowd's hype up. It is also wize to showcase your stadium's own social media accounts to gain an online following, to help you promote future events on social media.
5. Generate Revenue
Stadiums are THE number one location to delploy advertising screens and boost your revenue streams. Not only do stadiums experience millions of footfall each year, they also allow for a high dwell time. This makes stadiums an ideal place to sell sponsorship space. For example, this could be a local taxi firm that can take fans home after matches, or even local hotels so that travelling fans have somewhere to sleep. Larger stadiums will have the power to attract even bigger sponsors (even more revenue) to display on their screens such as banks, shirt sponsors, alchohol etc. Overall stadium digital signage is a great way to generate more revenue which you can then pump back into your stadium.
Stadium digital signage allows your stadium to utilise a veristile player that holds the ability to fill a number of roles to really enchance the operation and performance of your venue.
If you're interested in installing stadium digital signage at your venue get in contact with the team today.