Background
Guildhall Winchester is a marvellous Victorian building situated in the heart of Winchester. With 12 diverse venue spaces providing a capacity of up to 600 people, it is one of the largest conference and banquet spaces in the country. From wine festivals to high-profile corporate functions, the facilities at the Winchester Guildhall are suitable for events of all sizes. With it being only an hour away from London and less than 15 minutes from Southampton Airport Parkway, it's clear why it is a hot spot for a multitude of events.
Encountered Problems
There were two main problems that Guildhall Winchester was looking to resolve.
The primary problem was the archaic method of creating posters and leaflets, as they were becoming too cost-ineffective to advertise the events they were hosting. This was because the cost of posters and leaflets, although initially rather low, began to quickly multiply as events finish and new ones are introduced. Guildhall Winchester also found both of these mediums to be rather restricted in their creativity and presence, and so the search for a new medium to tackle this problem began.
The secondary problem was apparent when a larger event was taking place, and that was that their internal communication was not as efficient as they wanted it to be. As many of these events require a structured schedule, when there are unplanned changes that are not clearly communicated, it has the potential to tarnish the reputation of the event and the Guildhall itself. Then add at least a few hundred attendees scattered around the venues of the Guildhall, articulating these sudden changes was both difficult and time-consuming.
Our Solution
For Guildhall Winchester, although these two problems were initially separate, they were surprised to find that digital signage could be used as a solution to both of them.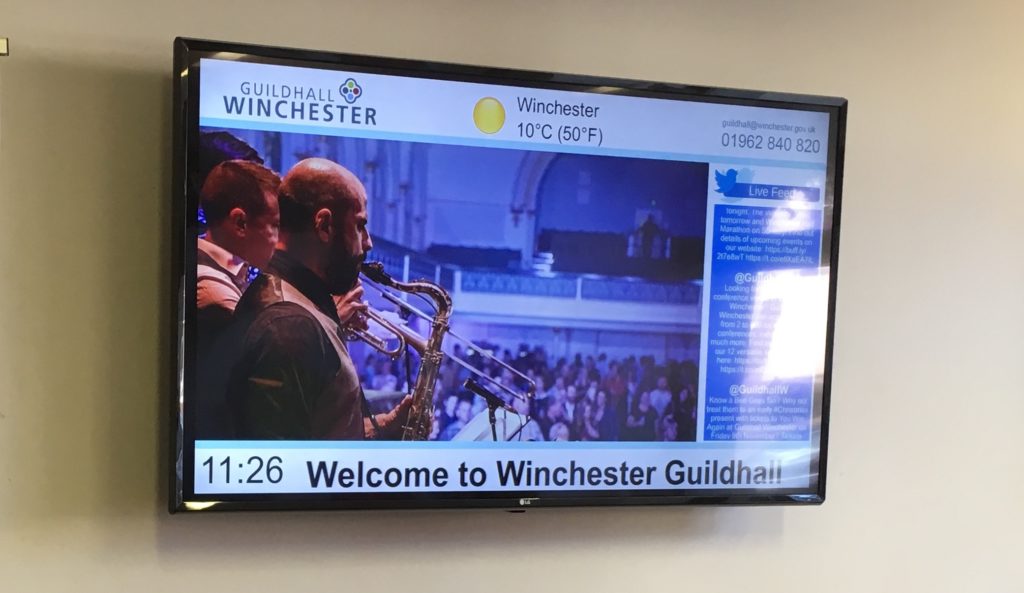 To help tackle their cost-ineffective advertising, TV screens accompanied with digital signage software would be used to replace the posters around the Guildhall. Not only would this be far more cost-effective, once installed, they would also no longer have to take the time to manually change the posters. Within minutes, they could change what was on their screen, all from one central location.
As for improving their internal communication whilst hosting an event, the screens would be used to relay critical information to attendees in an efficient way. Being able to instantly display this critical information in an eye-catching manner would increase the speed at which the audience is informed. This would, in turn, mean that the event itself is more likely to adhere to its schedule, reducing the likelihood of any damaged reputations.
For all your event needs, visit Guildhall Winchester.